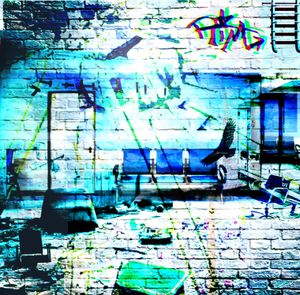 Album details
"Drunk at the Airport" is the upcoming single from Palm Trees In Moscow. It is a jangle pop/roots rock/shoegaze amalgam; drawing inspiration from R.E.M., The Replacements, The Stone Roses, and The War on Drugs .The song is an anthemic, Roots-Rock influenced track, filled with introspective lyrics and big, chiming, shimmering, guitars. Lyrically, the song focuses on shedding the old rags of complacency and getting out of your own way. As people often build invisible walls and put intangible limitations on themselves; this song is an anthemic cry to break out of the purgatory limbo of life we often create for ourselves. The thick production provides a sense of surrealism over grounded lyrics (no pun intended). 
Thematically, "Drunk at the Airport" is a song about being stuck. "Drop by Drop I beg the thieves for change".  The "thief" in the song is the narrator. Getting in your own way. Feeling in a state of stasis self imposed stagnant. "Block by Block" representing mental blocks. Whether the cause is ADD, laziness, hangover, or unwillingness to change. The tension and frustration comes to a boiling point, leading to the cathartic and cinematic final chorus. "Drunk at the Airport" was written by Baltimore, MD Singer/Songwriter/Guitarist Chris Frantz.  The song was written on New Years morning ("hazy on a new year"). Frustration and mental blocks forged a lyrical purgatory wasteland. The title is a loose metaphor for limbo. Being on the verge of going somewhere new, being so close to change/thriving in a new destination, but all the while disoriented and lost in a sea of loud noises, lights, and distractions. 
"Drunk at the Airport" was mixed and mastered by Jordon Zadorozny at Skylark Park Studios in Pembroke, Ontario. His production techniques and experience in the industry helped craft a dense sonic landscape. 
"Drunk at the Airport" hits all digital platforms Friday, June 3rd.

 
questions? contact info below